Hunting & Fishing License
For up-to-date hunting and fishing license information and fees, please visit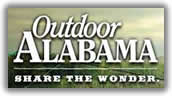 If you have lost your Hunters Identification Card you can go to Outdoor Alabama to get a replacement card. If you have lost a lifetime fishing or hunting license, you can come into our office and get a replacement for $5.00. If a lifetime license is mutilated, you can get a replacement for no charge. If you lose a license that was purchased in our office, we can give a replacement for $1.00.
RESIDENCY REQUIREMENTS
A CURRENT VALID ALABAMA DRIVERS LICENSE OR NON-DRIVER IDENTIFICATION IS REQUIRED TO PURCHASE HUNTING OR FISHING LICENSE, OR AT LEAST TWO OF THE FOLLOWING:
Certificate of employment if containing proof of permanent residence.
Copy of home property tax.
Copy of previous year's tax return (mailing address only).
Health insurance forms with address; Medicare, etc.
The last three months of a utility bill with mailing address.
Student ID plus copy of residence agreement or any other proof of residence listed.
Military personnel with an out-of-state drivers license must have copy of orders ofassignment to Alabama for a minimum of 30 days or have Alabama as home of record (HOR).
Health insurance card with address.
Telephone calling cards with address.
Copy of school registration for non-driving students.
Voter registration.
Other legal documents that may establish residency after approval by the Conservation Department.